MVUU is a religious community where we, the members, strive to welcome, care for, and inspire as together we transform ourselves and our world through love, justice, and peace.
Our ministries fall within three spheres: Spiritual Path, Fellowship, and Justice Outreach. These ministries bring enrichment and balance to our work within our community and beyond our walls.
At Mountain Vista UU, you'll find many opportunities to nurture your spirit, share your time and talents, and benefit from what other members share. It may be a class, a social justice march, a coordinated effort to feed the hungry—to care for and be cared for. Or just having fun with others. Our members provide and join in our many opportunities thereby finding their unique niche and others who share it.
Our Unitarian roots reach to the 4th century CE, spread during the 16th century European reformation, and arrived in the United States in the 19th century. In 1961, Unitarians and Universalist consolidated. Our own congregation had its beginning in one member's kitchen in 1988 and was nurtured by the UU Church of Tucson. Today we look forward to gathering together in our new home on Orange Grove in northwest Tucson.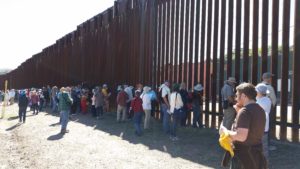 Our worship is creedless, and our faith does not demand adherence to any specific belief. That said, we do find inspiration from many religious, spiritual and secular sources handed down through the ages. To support our search for truth and meaning, we look to Buddhist, Taoist, Hindu, Judaic, Muslim, Christian, humanist, and earth-centered teachings, as well as those of atheists and agnostics. Our Congregation is a member of the national Unitarian Universalist Association.
MVUU is a part of the Baja Four—the UU congregations of Southeast Arizona: Sierra Vista— Sky Island UU, Amado—Borderlands UU, and eastside Tucson—the UU Church of Tucson. We work together cooperatively and love beyond belief. Like other congregations, we are independent and govern through democratic processes.
Our hopes are many for ourselves, our community, and our world. We have exciting and challenging work to do together at MVUU.